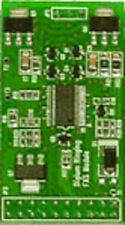 Digium 1S110MF
The S110M FXS module allows the TDM400P card to terminate analog telephones.
Because of the modular design, a user can activate additional ports at any time with more S110M or X100M daughter cards.
The S110M module passes all the call features any standard analog telephone will support.
To use the S110M module, you must provide 12V DC power to the TDM400P card or TDM800P card, either from the computer's power supply or from the Analog FXS Module Power Supply.